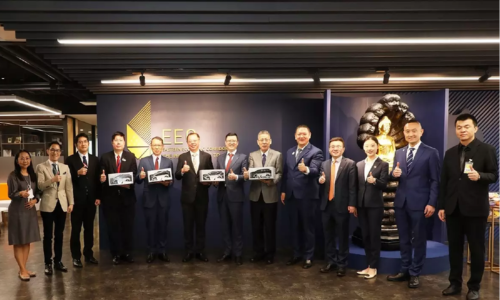 Xiao Yong, Vice General Manager of GAC AION, Ma Haiyang, Director of International Business at GAC AION, as well as the team from the international business department, including Huang Yongjie, Chairman of Gold Integrate, and Gao Peng, CEO of Gold Integrate, a subsidiary of GAC AION in Thailand, are among the GAC AION representatives in Thailand.
Wang Liping, Minister Counsellor of the Economic and Commercial Section of the Chinese Embassy in Thailand, stated, "Thailand is the most promising automotive market in Southeast Asia, and the Thai government has also introduced a series of supportive policies for the production and sales of electric vehicles. We are very pleased to see the arrival of GAC AION, and we will fully support Chinese company investments and developments in Thailand."
Xiao Yong, Vice General Manager of GAC AION, said, "The Thai government has the policy to encourage the widespread use of electric vehicles, and Thai consumers are increasingly purchasing or considering purchasing electric vehicles. Therefore, we consider Thailand to be the first target of GAC AION's overseas strategy. The first step is to bring AION's products and services to the Thai market as soon as possible, to provide Thai consumers with a more convenient and comfortable experience."
In recent years, the Thai government has implemented policies to increase support for the electric vehicle industry, including special policies for electric vehicles and requirements for the proportion of domestically produced electric vehicles, thereby demonstrating continuous development and upgrading of the Thai automotive industry. Similarly, consumer acceptance of electric vehicles has also rapidly increased. GAC AION, which is committed to producing high-end intelligent electric vehicles, has therefore decided to invest in the electric vehicle business in Thailand, as the market is becoming increasingly popular.
Guangzhou Automobile (GAC) Group, the parent company of GAC AION, was established in June 1999 as the headquarters of a state-owned joint venture automobile group in Guangzhou with a market capitalization of over 500 billion THB. GAC AION was founded in 2017 as the main organization of GAC Group for developing smart new energy vehicles and connecting them. It focuses on research and development as well as the production of high-end intelligent electric vehicles, with sales reaching 271,000 in 2022. According to the plan, GAC AION aims to achieve a sales target of 1 million vehicles in 2025 and 3 million vehicles in 2030.
Source: The Nation Thailand