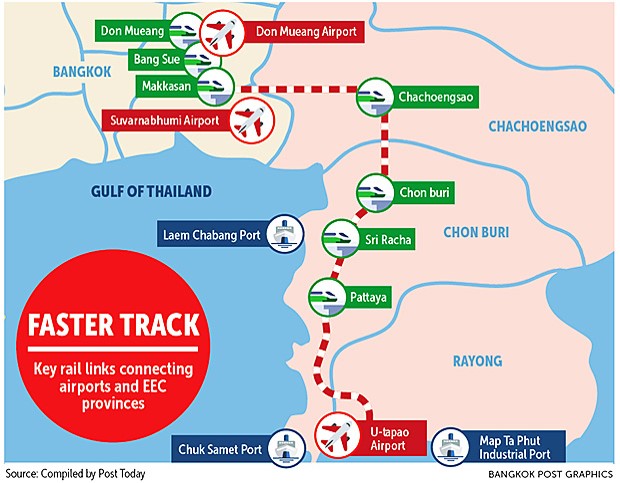 High-Speed Rail Linked 3 Airport project is a 220km high-speed railway line, which will connect three major airports in Thailand, namely Don Mueang International Airport, Suvarnabhumi Airport, and U-Tapao International Airport.
It is a joint venture between Public and Private Partnership (PPP) to attract investment to the EEC area internationally and domestically. Altogether, the project is expected to contribute $18 billion to the economy and will be responsible for creating 16,000 jobs and empowering over 100,000 businesses in adjacent sectors.
By 2021, the progress of high-speed rail has already accelerated the delivery of more than 86% of the area. For instance, the high-speed rail link created two new routes, Phaya Thai to Don Mueang and Lad Krabang to U-Tapao (Rayong), enabling easier movement within the EEC. 
The high-speed rail link is expected to be operational by 2025 and will run along a 29km stretch of the existing railway route and 191km of a new high-speed rail route. The new rail route section will feature 181km of elevated track, 8km of underground track, and 2km of surface track.
Source: asmag editorial team, EEC