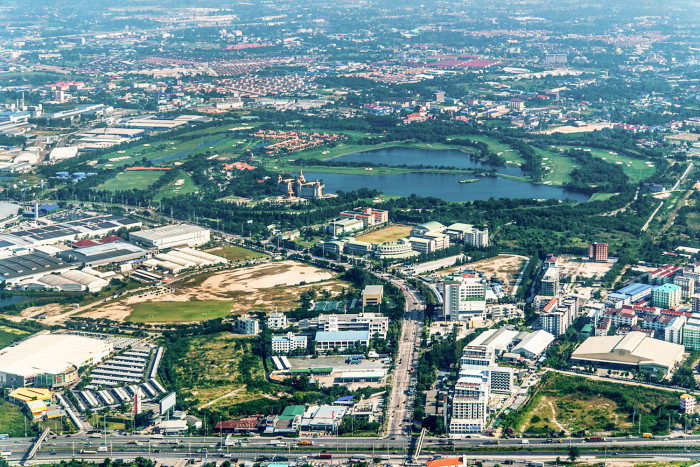 Industrial developer Amata Corporation Plc has teamed up with B.Grimm Power Plc (BGRIM) to conduct a feasibility study on the construction of Amata European Smart City, expected to serve European companies in the Eastern Economic Corridor (EEC).

The companies plan to set up a joint venture to develop the project, set to be located on 200 rai of land in Amata City Chon Buri, said Vikrom Kromadit, chief executive of Amata Corp.

"Amata will hold a 60% share in the joint venture, with the remaining 40% funded by BGRIM," he said.

They want the project to support smart energy, smart logistics and smart manufacturing.
Mr Vikrom expects European investors to be interested in this new project in the EEC, the government's planned site for a high-tech industrial hub. The EEC area covers parts of Chon Buri, Rayong and Chachoengsao. There...

The EEC area covers parts of Chon Buri, Rayong and Chachoengsao. There are more than 1,400 factories in Amata City Chon Buri and Amata City Rayong, all of which are in the EEC.

"Around 200 factories belong to R&D companies," he said.
Harald Link, chief executive of BGRIM, expects investors from countries such as Finland, the UK and Germany to invest in the Amata European Smart City because it is a high-potential project in Asean.

"Some European companies tend to overlook Thailand. They are interested in India and China because those countries have the largest populations in the world," said Mr Link.

"We are asking them to consider investing in Thailand because the country can serve as a gateway to Asean."

Thailand is developing a high-speed railway with China bridging the two nations and promoting 12 targeted S-curve industries in the EEC.

The industries are: cars; smart electronics; affluent, medical, and wellness tourism; agriculture and biotechnology; food; robotics for industry; logistics and aviation; biofuels and biochemicals; digital; medical services; defense; and education development.

He expects Amata European Smart City to attract foreign direct investment, which will play a key role in driving the Thai economy.
Amata also wants to develop a new industrial complex to serve South Korean investors in the future, said Mr. Vikrom.
Source: Bangkok Post